Consultation of materials from the special collections at The Latin American Library (LAL) must be done in LAL Reading Room. The LAL Reading Room is located next to The Latin American Library office on the 4th floor of Howard-Tilton Memorial Library (See TU Libraries floor map).
Who can consult the LAL Special Collections?
The LAL Special Collections are open to all researchers with a valid photo identification.  Please send an email to LAL@tulane.edu to set up an appointment. Normal operating hours for the LAL reading room will be open Monday, Tuesday, Wednesday, and Friday, 8:30am-12pm and 1:00pm-3:45 pm, and Thursdays, 10am-12pm and 1:00pm-3:45pm.  Special collections services occasionally are suspended for special events.  Please check the library calendar or contact us when planning your visit.
Are you a First-Time Visitor to the LAL Reading Room?
LAL asks first-time visitors to the LAL Reading Room to complete the following brief registration process:
Please fill out the registration form;
Present a photo identification (University ID or Driver's License, for example); and
Review and sign the Procedures for Consulting Rare Materials in the Reading Room (available in English and Spanish).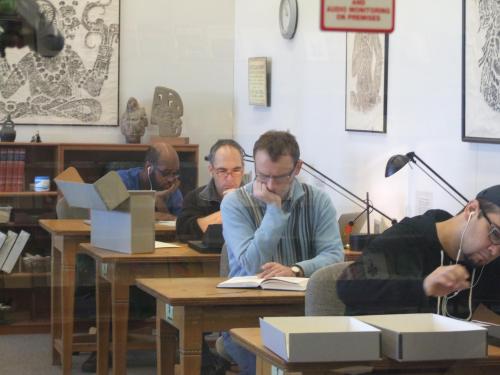 Getting Started
Please store your personal belongings in one of the visitor lockers. You may take with you pencils, blank sheets of paper (provided by the library), and a personal computing device (laptop computer, IPAD, or tablet). 
An LAL staff member will assign you a table and acquaint you with the Reading Room supplies (note paper, markers, gloves, weights, lamps, etc.)
Complete request slip(s).
Present your photo identification (University ID or Driver's License, for example) 
An LAL staff member will provide any and all table supports, weights, boards, and the like to ready materials for consultation. Please follow any instructions given regarding the handling of materials. Materials may not be picked up, removed from enclosures, or removed from the Reading Room. If you have any questions, please ask for assistance from an LAL staff member.
Limited camera use is permitted in the Reading Room. Please review the Camera Use Policy and Permission Form (also available in Spanish) or ask the LAL staff about the use of cell phone or digital cameras.
When you are finished consulting materials, please alert an LAL staff member who will remove and/or change the materials for you.
When leaving the Reading Room, please take all of your personal belongings with you and retrieve your photo ID from an LAL staff member.
Reading Room Etiquette
Please Wash you Hands: Clean, recently washed hands are best for handling paper materials. Gloves are preferred for handling photographic materials and will be provided for you.

No Food or Drink: Absolutely under no circumstances are food or beverages or beverage containers allowed in the Reading Room.

Limit Your Requests: Researchers are allowed to use three folders of manuscripts, one box of photographs, or three rare books at any one time. Please allow the staff of the Latin American Library an unobstructed view of your work area.

Pencils Only: Ink pens are not allowed for note taking. Accidents with ink pens can leave indelible stains on the documents. 

Keep Documents Flat on the Table: When consulting materials, please leave them as the LAL staff member has arranged them on the table or on supports. Leave flat materials on the table in their file folders in the order you found them. Do not hold documents or books up to read them, and do not remove materials from their file folders or change the order of documents within file folders. Please be careful not to lean on, write on, or place any objects on top of the materials. Do not remove documents or photographic materials from their enclosures. If you need assistance or have questions about handling materials, please ask an LAL staff member.

Please No Personal Conversations: The Latin American Library's Reading Room is a designated Quiet Space. Cell phones are allowed in the Reading Room only for permitted photography, note taking, or texting. Please leave the Reading Room to conduct personal phone or in-person conversations.

Personal Items are your Responsibility: LAL staff members are not responsible for the security of your personal property. Except for a quick bathroom or phone break, if you must leave the Reading Room for an extended period of time, LAL asks that you please alert an LAL staff member and end your consultation by taking all of your personal items out of the Reading Room.

Please Respect the Collections and the Library Staff: LAL kindly asks the users of thr Reading Room to please observe the above procedures, etiquette, and all instructions given by LAL staff. These guidelines are created to help preserve these unique collections in good condition for the use of all future researchers and visitors. Failure to observe any of these guidelines by users of the Reading Room will result in a suspension of privileges to consult LAL special collections materials.
Trying to Find Materials in The Latin American Library's Special Collections?
See the Special Collections webpage for information on discovery tools.
If you need more help or have reference questions about finding or consulting special collections materials or are interested in primary sources for a digital scholarship project, please contact the Curator of Special Collections.
Do You Need Digital Reproductions or Publication Permission for Images of LAL Special Collections Materials?
Please see the Duplication Policies and Services webpage for policies, procedures, and request forms.
Do you have questions regarding a loan or other special use of LAL Special Collections Materials?
If you have questions regarding loans or other special uses of special collections materials, physical objects or images, please contact the Curator of Special Collections.