Howard-Tilton Memorial Library houses an extensive collection of newspapers, magazines, unpublished archival material, and rare books in microfilm and microfiche formats. Much of this material has never been digitized for online access nor has it been published in print.
The microforms collection is located on the 6th floor of Howard-Tilton Memorial Library. Most of the collections are open for visitors to browse and use on their own. Due to the particularly rare nature of the microfilm in the Latin American Library collection, visitors must request specific reels at the 6th floor service desk.
Visitors may use any one of the microfilm readers available on 6th floor near the microfilm storage cabinets. All readers have basic instructions adjacent to them. The two digital readers (ST Imaging ViewSan III) enable users to capture, crop, enhance digital images.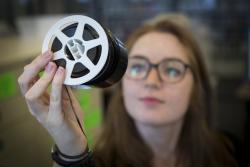 The term 'microform' encompasses two similar but slightly different formats. Microfilm, is a strip of durable plastic (usually polyester or acetate) with sequential images of typically rare material, such as rare books or unique archival documents. Microfiche is a transparent film sheet typically about the size of an index card that also contains images of rare or unique materials.
By the 1970s, microfilm and microfiche were well established within the library and archives community. For archives, microform offered a method of preservation, as use of microform reduced usage and wear on the original archival object. For libraries, microform meant an opportunity for their visitors to view and consult unique material that was otherwise geographically and economically inaccessible. The creation and perceived value of microforms continued well into the 2000's even as archivists developed standards and infrastructure for providing free digital access to their materials.
Although more and more material is becoming accessible online every day, much of the material originally committed to microform has yet to be digitized. Thus, the microform collections at Tulane University offer visitors a broad array of original research material waiting to be discovered.