Mission
Media Services fosters equitable opportunities for interdisciplinary discovery, innovative scholarship, and skill development through creative play with multimedia collections and media tools.
Vision
With our library and campus partners, Media Services will be a site of innovation, creativity, and scholarly engagement for Tulane and the New Orleans community.
What We Do
The Media Services team works to ensure access to Tulane Libraries' rich collection of film, audio recordings, microform collections, and music collections. This work includes building and maintaining these collections as well as managing Digital Media Reserves, circulation and shelving of media and the music print materials, providing research assistance, and ensuring library visitors have the tools and resources necessary to meaningfully engage with these research materials in the physical and digital realms.
Media Services continues to evolve with the developing needs of the Tulane Libraries and the University to meet contemporary research practices and cultures. We look forward to continuing to provide the core resources and services at the heart of Media Services as well as working with our library and campus partners to develop a suite of flexible services and tools that will enable members of the Tulane learning community who visit Media Services to engage in creative discovery, innovative communication, and personal and professional development.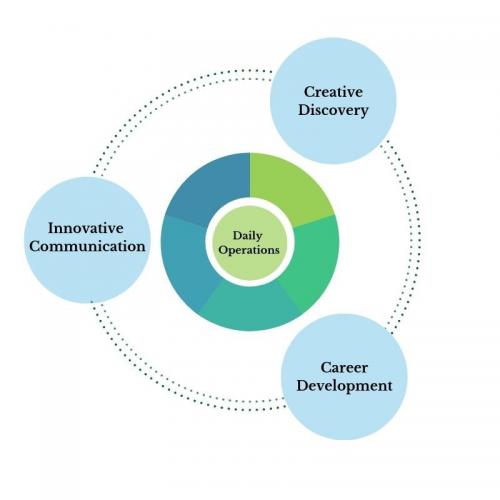 The core daily operational functions of Media Services include Media Reserves, Collection Management and Access, Equipment Management, Digital Projects, and nurturing the social/professional skills of our student team members. Supported by these core functions are the three satellite concepts of creative discovery, innovative communication, and career development that Media Services is looking forward to developing with our library and campus partners.