Remote Access to Library Resources
Current Tulane students, faculty, and staff may access Tulane Libraries' licensed online resources remotely from off campus through a system called authentication. The libraries use a system for authentication called OpenAthens.
When a user is outside the campus network and connects through the library website to library resources such as articles, eBooks, online journals, research databases, and licensed digital collections, they are automatically directly to a login screen seen below. 
The login and password for remote access is the same as the user's Tulane email ID and password. To avoid remote access problems it is important to connect to these licensed resources through the coded links on the library's web pages rather than directly.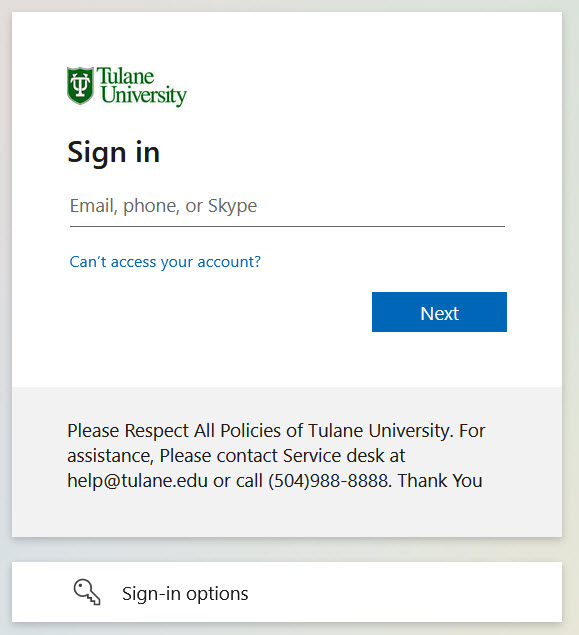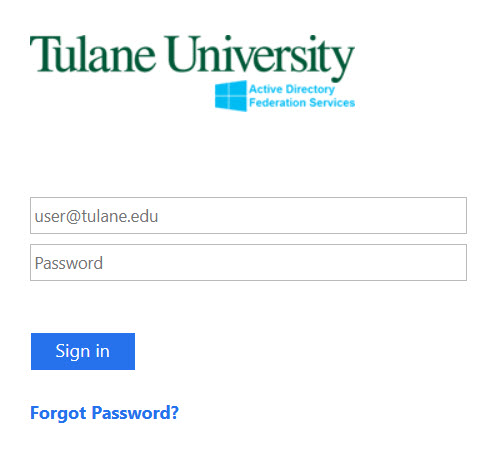 Logging In
Connection to the campus network is done at point of need. When users get to a resource that the library subscribes to, there will be prompt to login. Once logged in, a cookie will be saved by the browser, so users will not have to log in again during a session.
Troubleshooting
Once logged on to the campus network via OpenAthens, users should not need to login again to use other resources. However, if problems are encountered accessing additional resources, try backing out to the library web site and re-logging in. There are several reasons users may have to log in again. A few of them are:
Connection to the resource may have timed out on its server.
Users may have unintentionally logged out of the campus network by closing the resource/window they were originally logged into. If this happens frequently, please report the problem (see below).
When connecting to a journal article, the library may not have subscription access to the volume or year of the journal in which the article appears. Check both the Library Search feature and the e-journals list on the library web site to see if the library should have access to the full text of the item.
The login page for OpenAthens is a Tulane-branded box for a username and password with instructions on what to use for each. If users get a login page that is publisher specific -- for example, "Please enter your ProQuest password." -- this indicates that they are not going through the campus network. Connecting to the resource through a link from the library web site and its remote authentication system.
Some resources have limits on the number of simultaneous users. When all of the available "seats" are being used, users may get an error message or otherwise get turned away. If this appears to be the problem, try the resource again in a few minutes for one of the available seats to open.
Report problems
Sometimes online resources experience technical problems such as server issues or even scheduled upgrades when a database might be unavailable for a short time. To verify a resource is not available or report problems, contact the Research Help Desk by email or by chat. The library relies heavily on its users to identify issues that need to be fixed.
VPN Access
A number of Tulane staff and faculty use a Virtual Private Network (VPN) to connect to the Tulane network remotely. For more information about VPN including how to set up a VPN connection see https://it.tulane.edu/vpn-software.
Tulane Information Technology has advised that students returning to countries overseas consider using a VPN to access Tulane web sites and resources that may be blocked. A VPN software client and Anti-Virus protection client must be installed on the device for VPN remote access. Tulane has a limited number of concurrent VPN connections and users should log off when their work is completed. Note that a VPN cannot be used without first installing Trend Micro, Tulane's Anti-Virus Solution. If Trend Micro Anti-Virus Solution has not been installed, a step-by-step how-to guide is available. For VPN  software, see the request form. Currently some VPN users in China are experiencing problems connecting to some specialized business resources (such as Capital Q and ValueLine). These users can contact the Turchin Business Library for more information at turchin@tulane.edu. 
Library Account for Borrowing Uses a Separate Login 
Read information about the difference between off campus access and Library Account and Interlibrary Loan accounts in this Library Logins guide.