The collections of Tulane University Libraries support the educational and research programs of Tulane University. Librarians employ the following considerations when evaluating titles to be added or removed from the general collections and when tailoring profiles for approval plans that automatically ship materials to the library. For more information about how collections are developed see the library's Collection Development Manual and also its collection policies for specific disciplines.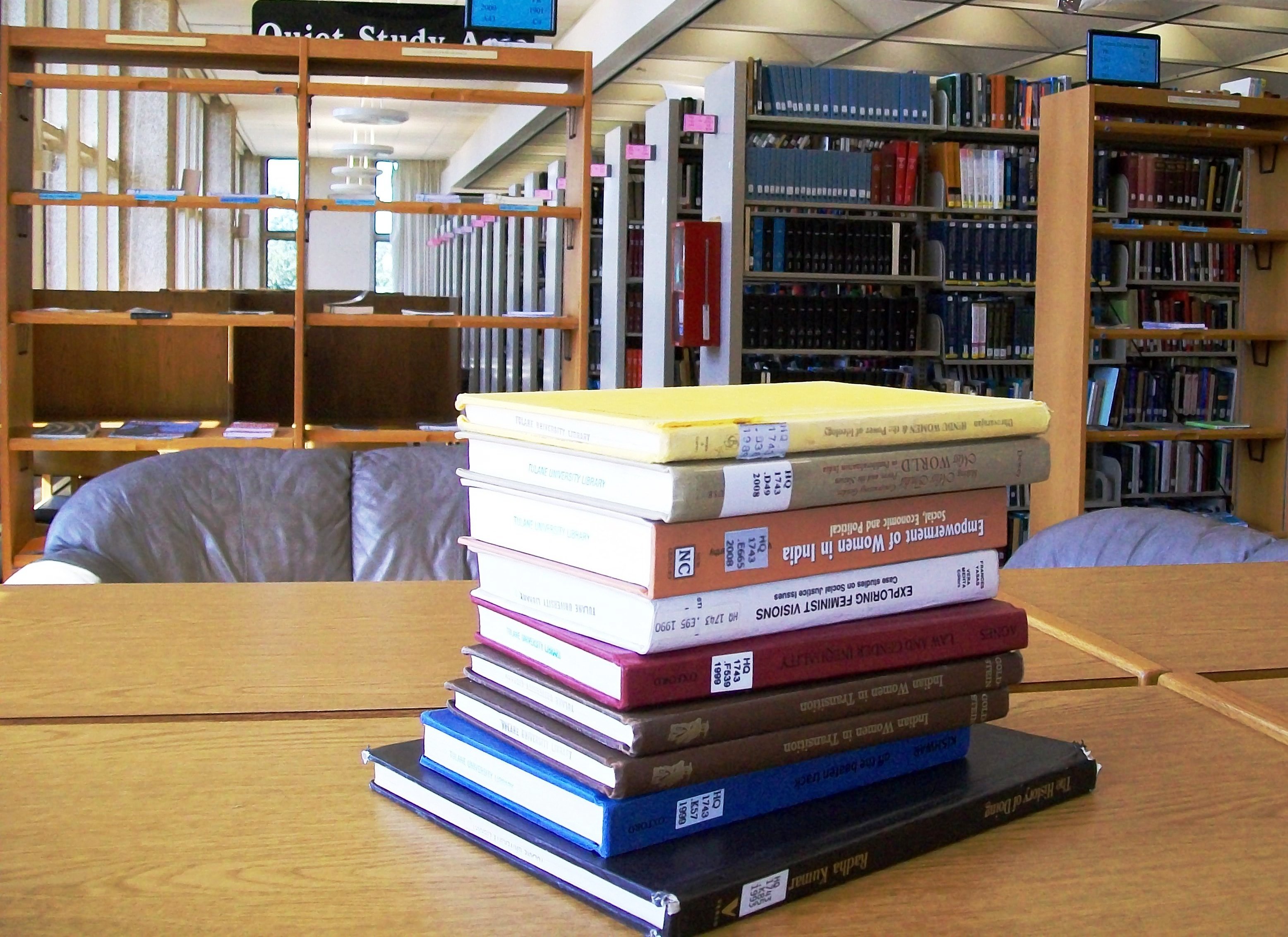 Relevance to Tulane's Academic and Research Programs
Librarians who select materials maintain close ties with the departments, centers, and research programs that comprise the primary user group for a particular subject or area. They also regularly gather information about the degree programs and curriculum for their areas and about faculty research activities or grants received. This information permits librarians to anticipate and provide for the current and changing needs of Tulane University's students and faculty and it informs the development of collection policies.
Scope refers to collection emphasis based primarily on the curricular emphasis of a department and secondarily on faculty research or broader use to the Tulane community. Preference is given to titles whose coverage is of sufficient breadth to be of use and interest to an entire department, while those of interest to a small number of individuals are collected selectively.
Many disciplines, particularly in the sciences, require up-to-date information. In those areas, preference is given to titles which report new and revised information in a timely fashion. In History preference is given to specific historical periods. In other areas there may be a variety of demands. Preference for emphasis on chronological period varies and is described separately in the collection policy for each subject area.
Preference for currency of imprint date (date of publication) and demand for out of print materials varies and is described separately in the collection policy statement for each subject area. Materials that are out of print can require additional costs or steps in ordering.
Types of materials selected may generally include monographs (books), monographic series, serials, reference works, popular works, conference proceedings, dissertations, manuscripts, course materials (such as textbooks), maps, media (including software or visual items), and recordings. Preference for emphasis on material type varies and is described separately in the collection policy statement for each subject area.
The library selects materials in the formats available that best meet the research needs of students and faculty while balancing considerations of format sustainability.  These formats generally include printed text; digital files that are generally online; microform; maps, globes; sound and video recordings. Most indexes and abstracts are obtained in digital form online to be widely available outside the library building. Journals are obtained online when available. Print is the standard format for monographs, with eBooks also routinely acquired. DVD in NTCS region 1 coding is preferred over VHS tapes; DVDs in PAL or encoded for different regions will be considered as appropriate. 
Format Support: The Library does not purchase materials for the general collection in outdated or other formats not supported by equipment to make them readily accessible to users. Examples of outdated formats include filmstrips, floppy diskettes, and eight-track cassette tapes. Preference for emphasis on format may vary and is described separately in the collection policy for each subject area.
Language and Geographic Considerations
The language of the primary and secondary users is considered as is the geographic origin of a work. Language emphasis and geographic consideration varies and preference for each is described separately in the collection policy for each subject area.
The contents of periodicals require bibliographic indexing and abstracting tools to insure sufficient user access. Inclusion or exclusion from common indexing for a discipline is considered when evaluating the subscription to a magazine or journal.
Depth of the Existing Collection and Local Availability of the Item
When considering the purchase of a new title, a librarian must also consider the strengths and weaknesses of the existing collection in which the new title will be located. Redundancy is avoided, but duplicates may be purchased where high use is expected. Availability of expensive or tangential titles through cooperative arrangements--such as that with the Center for Research Libraries--is also considered. Collection policies for each subject area address the following:
Affiliated Resources within the Howard-Tilton Memorial Library: This can include consideration for potential duplication with the library's existing collections and online resources. 
Related Library Collections Within Tulane University: The university has several libraries with collections physically separate from the main Howard-Tilton Memorial Library. These include libraries for the professional schools of business, medicine, and law as well as special libraries such as the Vorhoff Library and Newcomb Archives. 
Cooperative Resources: Howard-Tilton Memorial Library encourages cooperative resource-sharing arrangements such as the Library's membership in the Center for Research Libraries (in Chicago) whose specialized collections are accessible, only to member libraries, through interlibrary loan. These types of formal cooperative collection agreements may have direct effect on collection decisions.
Neighboring Resources: Tulane University is one of several universities with libraries in the New Orleans metropolitan area and within the State of Louisiana. A number of special libraries in the region, such as the Amistad Research Center and The Historic New Orleans Collection, house valuable research materials. Also, Howard-Tilton Memorial Library maintains and encourages cooperative use agreements that extend borrowing privileges to Tulane graduate students and faculty at neighboring academic libraries. Because selection decisions at these libraries are not made cooperatively, these types of use agreements do not necessarily effect selection decisions for Howard-Tilton collections.
The quality of a title must be evaluated weighing several subjective factors collectively, including its sponsorship, scholarship, level of creativity, lasting value, and reputation of the author, publisher, contributors, and editorial board. Other factors include the quality and importance of its illustrations and whether or not bibliographies are included. None of these is the deciding factor alone but each is considered as it contributes to or detracts from the title's overall quality.
The value of any item in the collection cannot be measured only by considering its price. Price, however, in addition to the other criteria mentioned here, has to be considered when evaluating a purchase. When evaluating "free" materials or gifts, the cost of acquisitions processing, cataloging, shelving, and preservation must also be considered.