Ephemera are small printed items intended for a short, or ephemeral, lifespan. These include pamphlets, flyers, campaign cards, church bulletins, and menus. Because such items are often stored upright in filing cabinets, they are often referred to as "vertical files."
Louisiana Research Collection Ephemera
Tulane University Special Collections (TUSC) has an extensive ephemera collection compiled by the Louisiana Research Collection that contains fliers, brochures, menus, and pamphlets from Louisiana and New Orleans related to the following subjects: 
Restaurants and nightclubs
Heritage and preservation societies
LGBT businesses and organizations
African American businesses and organizations 
Horticultural societies and garden clubs
Social welfare and charitable organizations
Synagogues, churches, and religious groups
Theaters, cabarets, and performing arts clubs
Neighborhood and community organizations
Social, ethnic, and fraternal organizations
Art societies, galleries, fairs, and auctions
Hurricane Katrina recovery organizations
Environmental and conservation groups
Business and civic affairs societies
The collection is strong in art ephemera going to back to about 1900, political ephemera going back to about 1840, theatre ephemera going back to about 1820.
The TUSC ephemera collection on New Orleans and Louisiana history is indexed in a database that is not currently accessible. For more information, contact specialcollections@tulane.edu.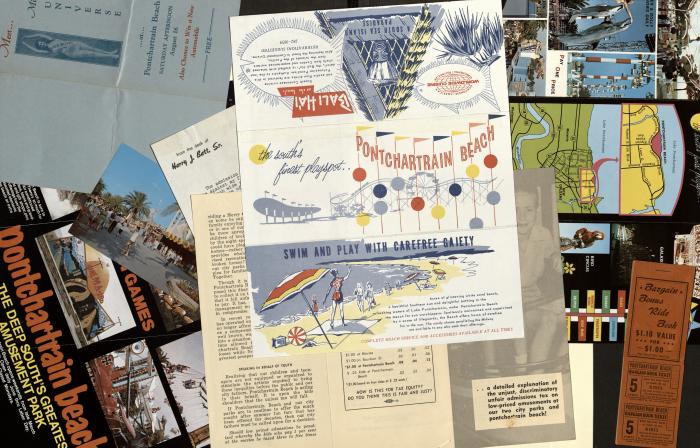 Vertical Files from the Hogan Archive of New Orleans Music and New Orleans Jazz
Hogan Vertical Files are currently CLOSED due to mold remediation work. We will update this website when we are able to reopen the collection.
TUSC also maintains a collection of vertical files compiled by the Hogan Archive of New Orleans Music and New Orleans Jazz. Containing information on people, bands, discography, and subjects relevant to New Orleans music and history, these vertical files include items such as newspaper clippings, correspondence, unpublished writings, ephemera, and journal articles, as well as public documents and official records. 
Inventories are searchable via the PDFs linked below. 
 

| | |
| --- | --- |
| Hogan Archive Vertical Files: Bands  | PDF |
| Hogan Archive Vertical Files: People | PDF |
| Hogan Archive Vertical Files: Subjects | PDF |