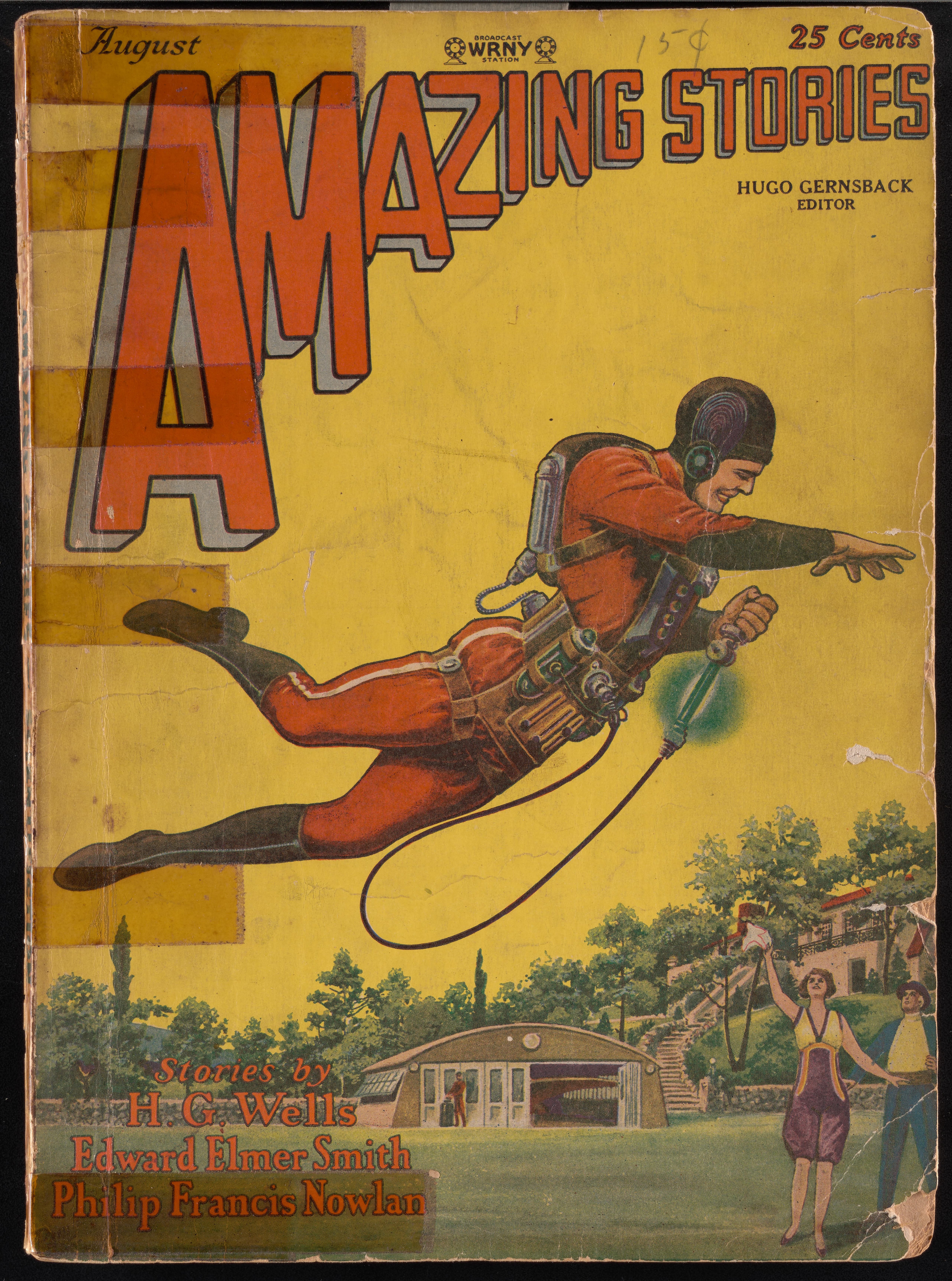 Amazing Stories, 1926. 
The Research Services Instruction Team is excited to welcome and introduce the Tulane community to Tulane University Special Collections (TUSC) and primary source research. TUSC staff is available to collaborate with instructors on creating a variety of learning experiences supported by TUSC collections.
TUSC looks forward to collaborating with faculty and students to create engaging and meaningful synchronous and asynchronous sessions, activities, and assignments that make use of TUSC digitized collections in order to meet a wide variety of learning goals.
The TUSC teaching practice is guided by these objectives: 
To provide primary source-based learning and archival, visual, and digital literacy through interactive and hands-on activities that empower students as knowledge creators, scholarly interlocutors, and story tellers; 
To inspire curiosity, creativity, and intellectual risk-taking in an inclusive and equitable classroom environment; 
To build confidence and comfort in navigating archival institutions and working with archival materials. Yes, you belong here and you can touch this!; 
To encourage instructors to develop innovative and collaborative courses that activate TUSC collections and promote archival literacy and research in undergraduate (all levels) and graduate courses.
If you are interested in bringing your class to Tulane University Special Collections, please fill out the Instruction Request Form. 
Types of Instruction Services Offered
Instruction Sessions
All sessions are tailored to the goals/objective of the individual course and aligned with the SAA/RBMS Guidelines for Primary Source Literacy. The Research Services Team encourages hands on, active learning activities.
Primary source orientation/introduction session (in class or special collections classrooms). Sessions include basic information on what special collections TUSC offer, what special collections is, handling and care of materials, policies and procedures, and how archival sources can be utilized for student research. TUSC tailor all sessions to specific course topics or subjects. TUSC recommend an introductory session before scheduling interactive sessions, as a form of reinforcement of best practices.
Interactive, active learning session (in Special Collections classrooms). In collaboration with the faculty, special collections staff selects course/topic/assignment appropriate materials for active, inquiry driven experiences.

Single class sessions that present archival or rare books research as a mode of discovery
Scaffolded sessions or multiple sessions (2 or more) that require return visits that allow students to begin undertaking a guided archival research and become comfortable and confident with practical, theoretical, ethical, and analytical concepts of primary research methodologies. Sessions are tailored as encounters with progressively more complex archival materials (ex. folder/box/collection) exposing students to the iterative nature of archival research rather than only focusing on decontextualized primary source documents often at the center of show-tell instruction sessions.
 Scaffolded sessions encourage students to:

closely examine documents or rare books
observe, describe and reflect on what they have seen
grapple with archival affect
practice critical analysis, interpretation, evaluation
begin the creative processes of telling stories, crafting original narratives and interpretations based on primary source materials.
Consultations
One on one virtual or in person meetings to discuss course planning, assignments, or collections suitable for class use. Contact Agnieszka Czeblakow, Head of Research Services aczeblakow@tulane.edu. 
Special Collections Tours 
Basic departmental tours and exhibit "gallery talks" to groups of 10 or more with TUSC archivists, librarians, or curators. 
Instruction Spaces
Instruction spaces designed for work with special collections materials are an integral component of a successful primary source session.
Classrooms: TUSC classroom spaces, located in Jones Hall 306 (Louis Prima Room) and HTML, Room 603 can accommodate up to 25 students per session, between the hours of 9:00- 5:00 on weekdays throughout the academic year. TUSC can make special arrangements for classes with large enrollments and evening or weekend courses.
Exhibition Spaces. The main gallery as well as smaller exhibit spaces throughout Jones Hall are available for class curated exhibits or creative projects that utilize Special Collections materials.
Online Exhibitions. In collaboration with Digital Scholarship & Initiatives, TUSC staff are available to assist with the logistics and planning of student or faculty curated physical and online exhibits. Tulane Online Exhibits uses WordPress, an open-source web publishing system, for the display of library, museum, archives, and scholarly narrative content. The Research Services Team in collaboration with Scholarly Engagement Librarians is available to assist with the logistics and planning of student or faculty curated physical and online exhibits.
TUSC staff are happy to accommodate students and faculty with special needs. Please contact TUSC at least 5 business days in advance of the class or tour. 
Requesting Instruction Session
If you are interested in bringing your class to Tulane University Special Collections, please fill out the Instruction Request Form and consult the following guidelines to help TUSC staff better prepare for your session and create a positive learning experience for your students:
At least two (2) weeks notice is required to ensure staff and materials availability.
Once the Instruction Request form is received, TUSC will schedule a consultation with a librarian/archivist to discuss course/session objectives and goals, confirm date and time of the session, and the types of materials to use. 
Questions and/or concerns about teaching in and with Tulane University Special Collections can be directed to Agnieszka Czeblakow, Head of Research Services, at aczeblakow@tulane.edu.