The Tulane University Special Collections (TUSC) exhibition gallery, located on the second floor of Jones Hall, features a variety of exhibitions that showcase TUSC holdings.
The gallery is currently closed, but TUSC staff look forward to welcoming you back for a visit.
Upcoming exhibitions
"Music IS the Scene": Jazz Fest's First Decade, 1970-1979
On view March 4 – May 27, 2022
Gallery Hours:
Monday - Friday: 10am - 4pm
Special Evening and Weekend Hours:
Moonlight Mondays: 10am - 7pm - March 28, April 25, and May 23
Saturday, March 12, 12pm - 3pm
Sunday, April 3, 12pm - 3pm
Saturday, May 21, 12pm - 3pm
Sunday, May 22, 12pm - 3pm
 
Recent exhibitions
Recent exhibitions include Captive Voices: Hearing, Seeing, and Imagining Angola Prison, launched as a complement to the 2019 Tulane Reading Project selection, Vengeance by Zachary Lazar, and Proteus 1892, Teunisson 1902, and Louis Armstrong 1949: Selections from the Carnival Holdings. You can view highlights from the following recent exhibitions on the Tulane Libraries YouTube channel: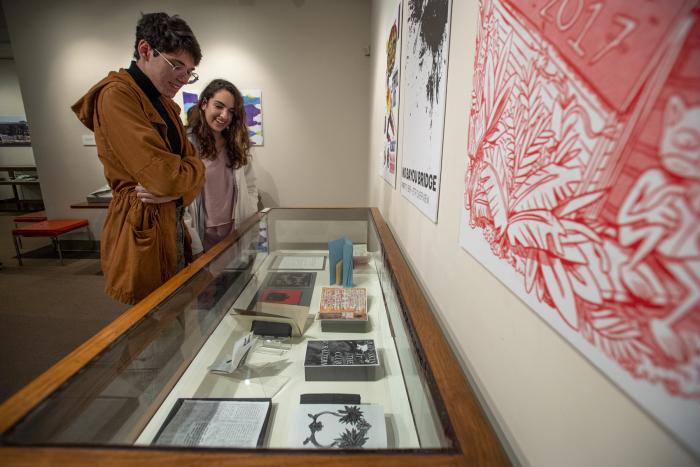 TUSC staff, as well as many Tulane students, have created several digital exhibitions that feature TUSC collections. Some highlights are linked here; to view all of the TUSC digital exhibitions, please visit the Library portal for online exhibitions. 
Tulane University Special Collections (TUSC) welcomes loan requests from institutions with established exhibition programs and professional staff qualified to handle the materials requested. Loan requests are judged on their own merits and the final decision to loan an item is made on a case by case basis. For more information about our loan program, please email Kevin Williams, Coordinator for Exhibits & Outreach, Tulane University Special Collections, kevinw@tulane.edu