Tulane University Special Collections (TUSC) welcomes students, educators, and learners of all kinds for communal exploration and study. If you would like to partner with us on our outreach activities or learn more about TUSC programming, please contact specialcollections@tulane.edu.
For directions and hours, please see our Visitor Information page.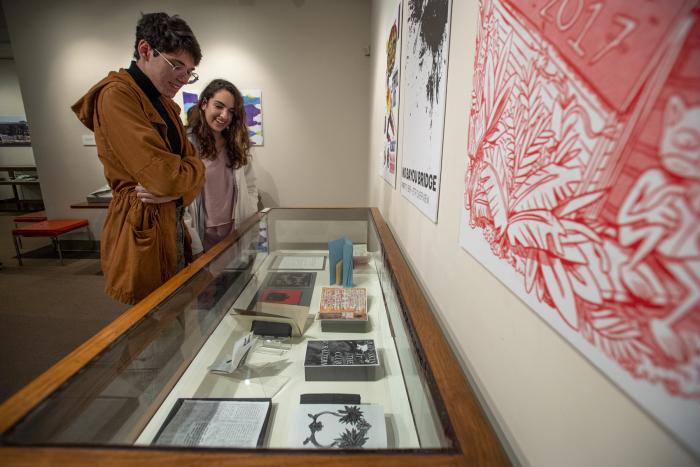 "I Shall Not Be Moved": Black Student Life at Tulane, 1963-2023
April 20, 2023 – September 22, 2023
In July 2020, Tulane's Black Student Union released a list of demands and expectations calling for "institutional revolution." It was a call that referenced and echoed the demands released in 1968 by tBSU's predecessors, the Afro-American Congress of Tulane. Among ACT's many "orders of discourse" were a call for the establishment of an academic program focused on Black history and culture, and for the library to increase representations of Black American voices and experiences among its collections and resources.
In light of these calls for action, Tulane University Special Collections is pleased to partner with tBSU to mount a new exhibition that highlights and contextualizes Black student life at Tulane. "I Shall Not Be Moved": Black Student Life at Tulane, 1963-2023 seeks to activate the historical record by inviting conversation between tBSU's past and present. Featuring materials from Tulane University Archives and the Rare Books collection, the items on display were selected by tBSU's Executive Board with the assistance of TUSC archivists and librarians. The exhibition's title, chosen by tBSU, quotes Maya Angelou's 1990 poem, "Our Grandmothers," which celebrates the power and agency of her Black ancestors and community. The poem is featured in a limited-edition folio illustrated by the artist and educator John Biggers; the folio will be on view during the exhibition.
"I Shall Not Be Moved": Black Student Life at Tulane, 1963-2023 opens April 20, 2023 with a public reception from 4:00pm to 6:00pm at the Tulane University Special Collections 2nd Floor Gallery, 6801 Freret Street, Jones Hall, on Tulane University's Uptown campus. The exhibition will remain on view through September 22, 2023 from 10:00am to 4:00pm Monday through Friday. Admission is free and open to the public.
Special thanks to Tulane University Archivist Ann Case, Head of Research Services and Rare Books Curator Agnieszka Czeblakow, Special Collections Library Associate Faye Daigle, and Coordinator for Exhibits and Outreach Kevin Williams for their work to facilitate and mount this exhibition.
For more information contact: Kevin Williams, Coordinator for Exhibits & Outreach, Tulane University Special Collections(504) 247-1836 kevinw@tulane.edu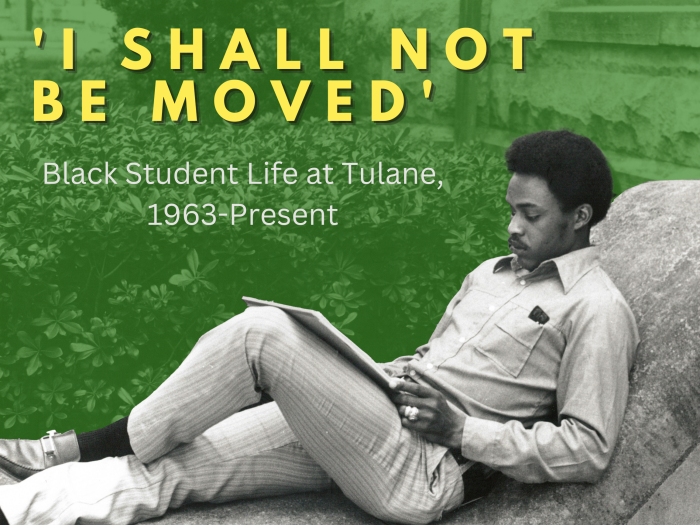 Please join us for these upcoming events!
Jivin' with Dr. Daddy-O: Race, Radio and Representing Black in Jim Crow New Orleans
Monday, October 2, 2023
12:00 - 1:00 p.m. CT
Register for Zoom event: https://tulane.libcal.com/event/10964198
This event is presented as part of American Archives Month, celebrated in October, and sponsored by the Professional Development Committee of Tulane University Libraries. Melissa A. Weber will give a presentation that she shared at the Library of Congress' Radio Preservation Task Force 2023 conference, which highlighted how preservation contributes to the history and creation of mass media at community, local, national, and international levels.
Both because of and in spite of Jim Crow laws, which enacted segregative policies, a Dillard University art professor named Vernon Winslow transformed himself in 1949 into Dr. Daddy-O, the first Black disc jockey to host his own program on New Orleans radio. His pioneering show as a broadcaster extended beyond integrating the airwaves. He began his radio career by creating the character of and writing scripts for Poppa Stoppa, a white WJMR AM DJ who became popular by using Black dialect and slang, as coached by Winslow off-air, since African American on-air talent was not yet allowed. With his first show as Dr. Daddy-O, Winslow broke down segregated airwaves in New Orleans and, in the process, integrated his previous skills in advertising and public relations, his new skills as a broadcaster, his natural ability to communicate, and his early understanding of the power of attracting Black audiences, promoting Black music, and embracing Black vernacular on air. His story adds to the narrative of Black radio history, the birth of rock 'n roll, the desegregation of New Orleans airwaves, and the role of sales and advertising in radio broadcasting.
In 2019, the GRAMMY Museum Grant Program awarded a Preservation Implementation Grant to Tulane University Special Collections to conserve and digitize rare recordings from the Vernon Winslow Collection of Phonograph Records, housed with the Hogan Archive of New Orleans Music and New Orleans Jazz. The unique recordings on 78 RPM discs include Dr. Daddy-O's remote broadcasts, his interviews with leading jazz, blues, and rhythm & blues icons of the 1950s, and Winslow's own trademark vocal style as a legendary radio personality and cultural influencer. These recordings will be incorporated into a discussion on Winslow's groundbreaking contributions to broadcasting, and how they can inform interdisciplinary approaches to radio preservation and history.
Melissa A. Weber is curator of the Hogan Archive of New Orleans Music and New Orleans Jazz, a unit of Tulane University Special Collections (TUSC) with Tulane University Libraries. The Hogan Archive supports the research and study of New Orleans music and culture of the late 19th and 20th centuries forward.
This Zoom session is open to the public, and will be recorded. Email mweber3@tulane.edu for more info.
Archives Social Hour
Friday, October 20, 2023
2:30-3:30 p.m.
TUSC Reading Room (room 202) and Gallery (room 208A) in Jones Hall, 6801 Freret St. on the uptown campus of Tulane University
Tulane University Special Collections invites students, faculty, staff, alumni, and visitors to its informal mixer and open house during Wave Weekend '23 and American Archives Month.
View and learn about rare and unique archival materials from TUSC holdings, meet TUSC staff who can answer your questions about archives and special collections, and "visit the archives" just for fun. Free treats and giveaways available, while they last.
Click here for more info.
Sponsored by TUSC and Newcomb-Tulane College.
Email mweber3@tulane.edu with questions or to request accessibility accommodations in advance.
In the Archives: Researching and Learning with Primary Source Materials about New Orleans
Monday, November 6, 2023
4:00-5:00 p.m.
Louis Prima Room (room 306) in Jones Hall, 6801 Freret St., on the uptown campus of Tulane University
Register for in-person event: https://tulane.libcal.com/event/10965124
This workshop session is an introduction to archives for the novice user. It also provides a hands-on experience for attendees to engage with primary source materials, and to answer research questions related to holdings from the Hogan Archive of New Orleans Music and New Orleans Jazz, a unit of Tulane University Special Collections. If you're curious about what archives are, why they're interesting and can benefit you, and the importance of archives about New Orleans music and culture, this session is for you. Led by Melissa A. Weber, Hogan Archive curator.
Open to both the Tulane University community and the general public. Students are encouraged to attend. RSVP required. Capacity: 20 attendees. Email mweber3@tulane.edu for more info.
Recent exhibitions include Absolutely Unpredictable: Anne Rice in the City of Transgression (October 2022 - February 2023); Music IS the Scene": Jazz Fest's First Decade, 1970-1979; Captive Voices: Hearing, Seeing, and Imagining Angola Prison, launched as a complement to the 2019 Tulane Reading Project selection, Vengeance by Zachary Lazar; and Proteus 1892, Teunisson 1902, and Louis Armstrong 1949: Selections from the Carnival Holdings. View highlights from the following recent exhibitions on the Tulane Libraries YouTube channel:
TUSC staff, as well as many Tulane students, have created several digital exhibitions that feature TUSC collections. Some highlights are linked here; to view all of the TUSC digital exhibitions, please visit the Tulane Libraries portal for online exhibitions. 
Tulane University Special Collections (TUSC) welcomes loan requests from institutions with established exhibition programs and professional staff qualified to handle the materials requested. Loan requests are judged on their own merits and the final decision to loan an item is made on a case-by-case basis. TUSC will provide an agreement for approved loans and cannot sign agreements from a borrowing institution. For more information about our loan program, please email Kevin Williams, Coordinator for Exhibits & Outreach, Tulane University Special Collections, kevinw@tulane.edu.