Tulane University Special Collections (TUSC) welcomes students, educators, and learners of all kinds for communal exploration and study. If you would like to partner with us on our outreach activities or learn more about TUSC programming, please contact specialcollections@tulane.edu.
For directions and hours, please see our Visitor Information page.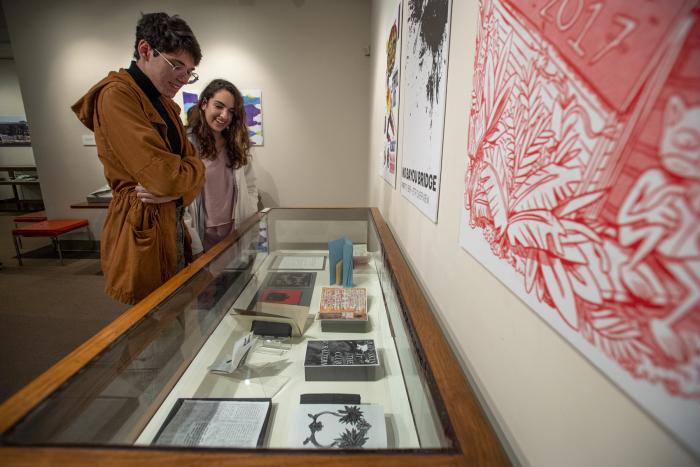 "I Shall Not Be Moved": Black Student Life at Tulane, 1963-2023
April 20, 2023 – September 22, 2023
In July 2020, Tulane's Black Student Union released a list of demands and expectations calling for "institutional revolution." It was a call that referenced and echoed the demands released in 1968 by tBSU's predecessors, the Afro-American Congress of Tulane. Among ACT's many "orders of discourse" were a call for the establishment of an academic program focused on Black history and culture, and for the library to increase representations of Black American voices and experiences among its collections and resources.
In light of these calls for action, Tulane University Special Collections is pleased to partner with tBSU to mount a new exhibition that highlights and contextualizes Black student life at Tulane. "I Shall Not Be Moved": Black Student Life at Tulane, 1963-2023 seeks to activate the historical record by inviting conversation between tBSU's past and present. Featuring materials from Tulane University Archives and the Rare Books collection, the items on display were selected by tBSU's Executive Board with the assistance of TUSC archivists and librarians. The exhibition's title, chosen by tBSU, quotes Maya Angelou's 1990 poem, "Our Grandmothers," which celebrates the power and agency of her Black ancestors and community. The poem is featured in a limited-edition folio illustrated by the artist and educator John Biggers; the folio will be on view during the exhibition.
"I Shall Not Be Moved": Black Student Life at Tulane, 1963-2023 opens April 20, 2023 with a public reception from 4:00pm to 6:00pm at the Tulane University Special Collections 2nd Floor Gallery, 6801 Freret Street, Jones Hall, on Tulane University's Uptown campus. The exhibition will remain on view through September 22, 2023 from 10:00am to 4:00pm Monday through Friday. Admission is free and open to the public.
Special thanks to Tulane University Archivist Ann Case, Head of Research Services and Rare Books Curator Agnieszka Czeblakow, Special Collections Library Associate Faye Daigle, and Coordinator for Exhibits and Outreach Kevin Williams for their work to facilitate and mount this exhibition.
For more information contact: Kevin Williams, Coordinator for Exhibits & Outreach, Tulane University Special Collections(504) 247-1836 kevinw@tulane.edu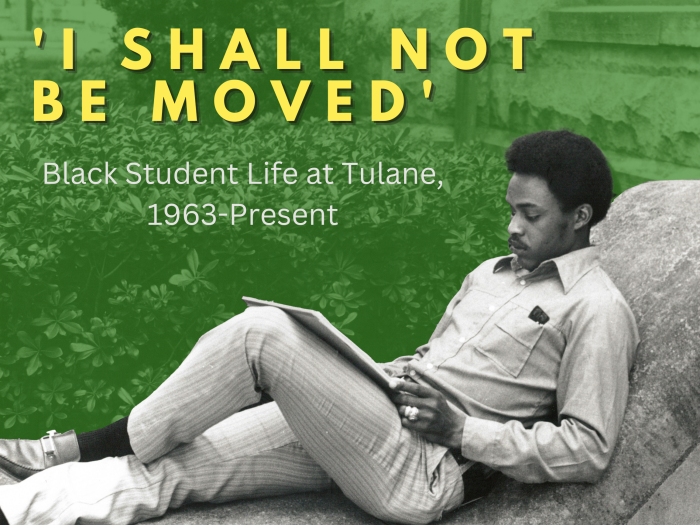 Please join us for these upcoming events!
Prima Memorial Lecture Series: Dr. Guthrie P. Ramsey, Jr.
Thursday, February 1, 2024
6:00 p.m.
Diboll Gallery at Newcomb Institute (43 Newcomb Pl.), 3rd floor of the Malkin Sacks Commons
Tulane University
The Prima Memorial Lecture Series presents discourse and discussion around American popular music, including its origins in American jazz. Presented by Tulane University Special Collections and the Gia Maione Prima Foundation. More info TBA.
Free and open to the public. Email mweber3@tulane.edu for more info.
Recent exhibitions include Absolutely Unpredictable: Anne Rice in the City of Transgression (October 2022 - February 2023); Music IS the Scene": Jazz Fest's First Decade, 1970-1979; Captive Voices: Hearing, Seeing, and Imagining Angola Prison, launched as a complement to the 2019 Tulane Reading Project selection, Vengeance by Zachary Lazar; and Proteus 1892, Teunisson 1902, and Louis Armstrong 1949: Selections from the Carnival Holdings. View highlights from the following recent exhibitions on the Tulane Libraries YouTube channel:
TUSC staff, as well as many Tulane students, have created several digital exhibitions that feature TUSC collections. Some highlights are linked here; to view all of the TUSC digital exhibitions, please visit the Tulane Libraries portal for online exhibitions. 
Tulane University Special Collections (TUSC) welcomes loan requests from institutions with established exhibition programs and professional staff qualified to handle the materials requested. Loan requests are judged on their own merits and the final decision to loan an item is made on a case-by-case basis. TUSC will provide an agreement for approved loans and cannot sign agreements from a borrowing institution. For more information about our loan program, please email Kevin Williams, Coordinator for Exhibits & Outreach, Tulane University Special Collections, kevinw@tulane.edu.