Visitors with a Tulane Splash Card or other accepted borrowing cards may check out books, music scores, music recordings, film, and select technology hardware from the 6th floor service desk during regular operating hours.
Media items will be retrieved from non-public storage shelving upon request. Visitors are encouraged to come with call number(s) in hand but the Media Services team is available to assist finding a title's call number in Library Search as needed.
Choose an affiliation:
Tulane Graduate Student:
| | |
| --- | --- |
| Book Loan Period | 1 semester |
| Borrow Non-circulating Journals | Yes - 2 Days |
| Cost of Membership | N/A |
| Number of Items Allowed | 50 |
| Number of Book Renewals Allowed | 3 |
| Borrow Reserve Materials | Yes |
| Borrow Tech Equipment | Yes |
| Borrow Circulating DVDs | Yes - 1 Week; Allowed 5 at a time |
| Borrow Circulating CDs | Yes - 2 Weeks; Allowed 7 at a time |
| Assigned Carrels | No |
The general microfilm collection, newspapers, books, and music scores supported by Media Services are available in the publicly accessible shelving during regular hours for Howard-Tilton Memorial Library.
Recordings, film, the Latin American Library microfilm collection and technology hardware circulated exclusively through Media Services at the 6th floor service desk are available during Media Services regular hours.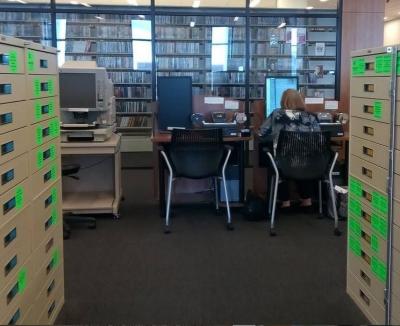 Tulane Libraries strive to nurture an inclusive environment for all library visitors and personnel. The 6th floor service desk and most work areas including the larger format overhead scanner, digital microfilm readers, and select viewing stations are wheelchair accessible.
A work station with assistive technology is located in the first floor Learning Commons.
Descriptive text is preferred for films purchased on physical formats or licensed for streaming access. Closed captions is a minimum requirement.
Please visit Library Accessibility Information for additional details about Tulane Libraries' commitment to an accessible library experience.