You can search, browse, and explore over 2,000 finding aids that describe archival collections held by Tulane University Special Collections (TUSC) via Tulane University's instance of ArchivesSpace.
Tulane's ArchivesSpace search tool also enables you to search finding aids for archival collections held by the Newcomb Archives and The Latin American Library. Please consult each repository for more information on access policies, location, and hours.
For an overview of how to understand and use a finding aid in ArchivesSpace, please consult this guide developed by MIT Libraries.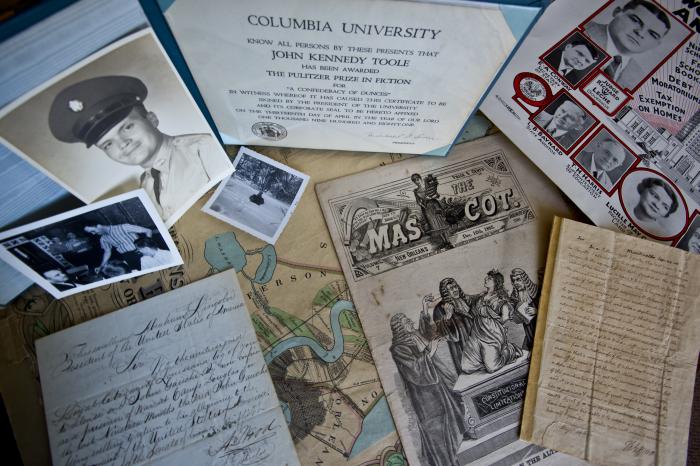 Researchers can access all processed, unrestricted materials held by Tulane University Special Collections. Please see our Visitor Information page for details on how to make an appointment and to review our guidelines for reading room conduct. 
Unprocessed Collections
Collections that are unprocessed are closed to the public. "Unprocessed" refers to any archival collection, primary source material, or monograph that has no publicly discoverable description (a finding aid or a catalog record) or that has too little description for the TUSC Research Services staff to be able to guide users in accessing the collection without extensive research on their own. TUSC defines "extensive research" as more than 30 minutes. For research access to unprocessed collections, researchers must contact the appropriate curator who will review the requested materials. 
Audiovisual Materials
All analog audiovisual materials must be reformatted before they can be accessed. Please see our procedures for requesting AV digitization here. 
University Records
Some materials in our collections are restricted due to legal requirements or university policy. Records held by Tulane University Archives are governed by the policies found here.  
Statement on Harmful and Non-Inclusive Language in Archival Description
What Is Archival Description?
Archival description is the language used to describe archival material in a finding aid and for digitized archival items. Finding aids and digitized archival material represent the holdings of a repository and are written by archivists or staff while processing or digitizing a collection. The goal of archival description is to document the contents of a collection or a portion of a collection thereby facilitating access. For access to our finding aids, please visit https://archives.tulane.edu/. If you encounter harmful or non-inclusive language in archival description, please contact us at specialcollections@tulane.edu.
Acknowledgment
The staff of Tulane University Special Collections (TUSC) acknowledges that harmful and non-inclusive language can be found in the descriptions of our archival collections. Harmful and non-inclusive language reinforces inequalities between groups and reinforces the power structures that disenfranchise these groups. Harmful description includes terms that may be ableist, ethnocentric, heterocentric, homophobic, racist, or sexist to describe individuals, groups of people, and perspectives. Non-inclusive description can valorize one group or person over another and obscures the lives of those described in the written historical record. Some of this language will be maintained as part of the historical record while other instances of this language will require revision or additional information. See the following examples:
Information will be maintained in order to retain the historical record.

For example, original folder titles are an example of language provided by the creator that we maintain in order to preserve the historical record, even if it includes harmful or non-inclusive language. 

Information will be revised if it is harmful or non-inclusive and was written by an archivist in a finding aid or other forms of description.

For example, identification of a woman by her husband's name or "and wife" in the caption of a photograph is an example of the type of non-inclusive language that will be updated if we can identify and include the person's full name.

Information will be added if a person, group, or subject has been excluded.

For example, if a collection of personal papers contains material on both a husband and wife but the title includes only the name of one of the male creator, the title will be adjusted to include the preferred name of the female creator.
Library of Congress Subject Headings (LCSH) can be harmful and non-inclusive. We aim to eliminate the use of harmful and non-inclusive LCSH in our descriptions.
Commitment
We align ourselves with TUSC's Vision, Mission, Values Statement and Society of American Archivists' Statement of Principles.
To that end, we commit to the following:
We commit to using non-harmful and inclusive language in our descriptive practices. 
We commit to repairing harmful and non-inclusive language in our archival descriptions.
We commit to treating archival description as a living organism, and to stay informed about continued development of archival descriptive practices and our own implicit biases and limitations as archivists.
We commit to creating guiding principles for description that aid in how we approach our current descriptive practices and the repair of harmful and non-inclusive description.
We commit to being transparent and documenting our method to repairing harmful and non-inclusive archival descriptions.
References and Sources For Further Reading