The Hogan Archive of New Orleans Music and New Orleans Jazz, a unit of Tulane University Special Collections (TUSC), supports the research and study of New Orleans music and culture of the late 19th and 20th centuries forward.  
It was founded in 1958 when Richard B. Allen, a Tulane University graduate student, embarked on a jazz oral history fieldwork project for his thesis. Dr. William Ransom Hogan, the chair of the Department of History at the time, wrote the initial Ford Foundation grant proposal that funded the project. Tulane administered the formation of the Archive of New Orleans Jazz as part of the Department of History. In 1965, the Archive became a department within the Howard-Tilton Memorial Library and in 1974, following Dr. Hogan's death, it was renamed the William Ransom Hogan Jazz Archive. It was renamed in 2020 to the Hogan Archive of New Orleans Music and New Orleans Jazz. To learn more about the name change and new collection policy, please see the 2020 news release. 
Hogan holdings include archival collections, business papers, personal papers, sound and video recordings, sheet music, photographs, ephemera, and various printed materials. The musical cultures of New Orleans represented include, but are not limited to, jazz, ragtime, rhythm and blues, blues, gospel, Creole songs, and other forms of Black American popular music. All materials highlight the culture and communities of the New Orleans region from a music-based perspective, but also comprise multidisciplinary subjects such as American history, ethnic studies, gender studies, architecture, sociology, race and representation, anthropology, cultural studies, marketing, media, and much more.
For questions and assistance, please contact TUSC Research Services at specialcollections@tulane.edu or Hogan Archive curator Melissa A. Weber at mweber3@tulane.edu.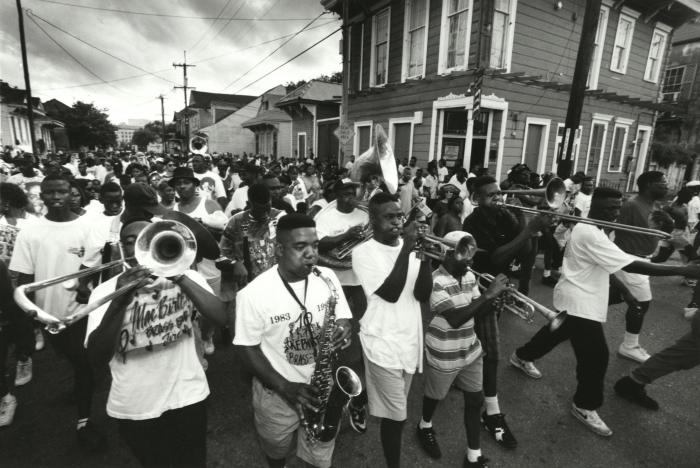 Archival collections and papers of primary source materials representing pioneering New Orleans artists such as Paul Barbarin, Danny and Blue Lu Barker, Al Hirt, Mahalia Jackson, and Louis Prima; music and media practitioners such as Mina Lee Crais, Donald Marquis, Allison Miner, and Robert Palmer; and subjects such as the Dew Drop Inn, Tipitina's, and the Union of New Orleans Musicians – AFM Local 174-496
 
Digital collections of Louisiana sheet music (1838-1938), sound and video recordings, and thousands of photographs, all accessible online 
 
Oral history interviews with musicians, family members, and observers that document the stories surrounding the emergence of jazz in New Orleans from the late 19th century forward. Including over 2,000 reels of taped interviews, the Hogan Archive holds the largest collection of jazz oral history extant. Digitized oral histories represent 1948-1997, and can be accessed via websites for the Tulane University Digital Library and Music Rising at Tulane.

Extensive vertical files with data on people, bands, discographies, and a wide variety of New Orleans music-related subjects (Please note: Hogan Vertical Files are currently CLOSED due to mold remediation work. We will update this website when we are able to reopen the collection.)


More than 40,000 sound recordings including vinyl LPs, 45s, and 78s, as well as cassette tapes, CDs, reel-to-reel tapes, and cylinders that capture studio and live performances, both commercially available and previously unreleased
Hogan Archive Publications
The Jazz Archivist
All back issues of The Jazz Archivist are available online via the Tulane University Digital Library.
From 1986-2019, The Jazz Archivist (ISSN: 1085-8415) served as a newsletter and non-peer reviewed journal covering jazz and New Orleans music. Published by the William Ransom Hogan Jazz Archive, the publication featured articles and updates written by Hogan Archive staff, as well as independent researchers and scholars. The Jazz Archivist ceased publication after its 2019 issue.